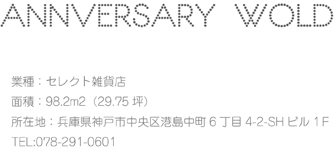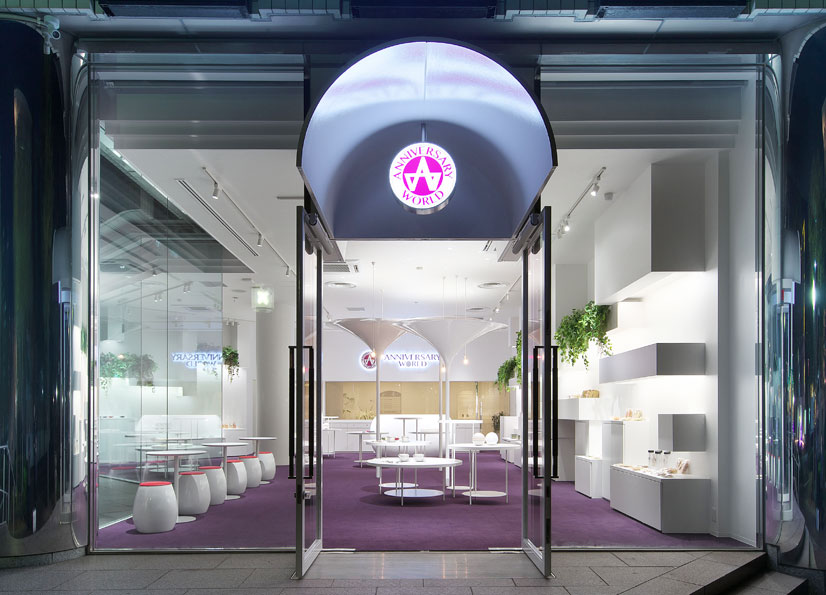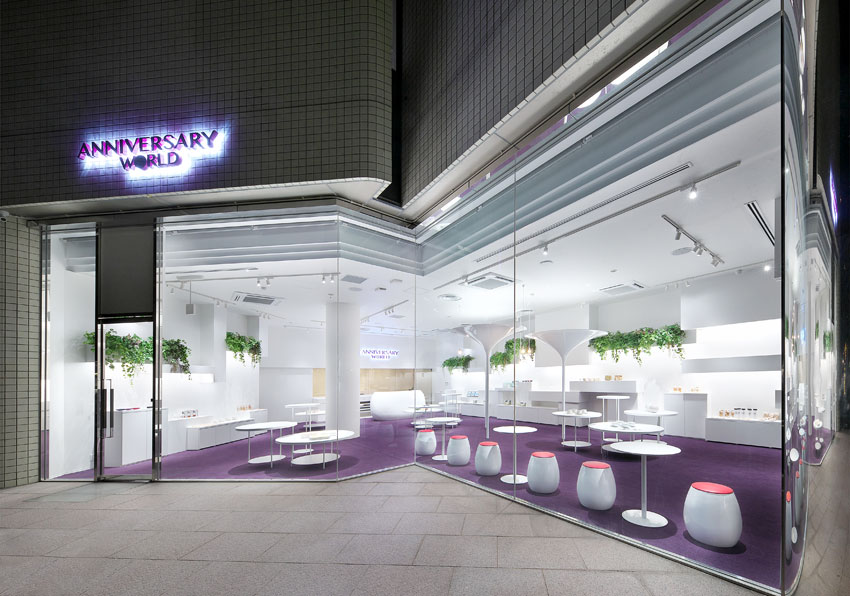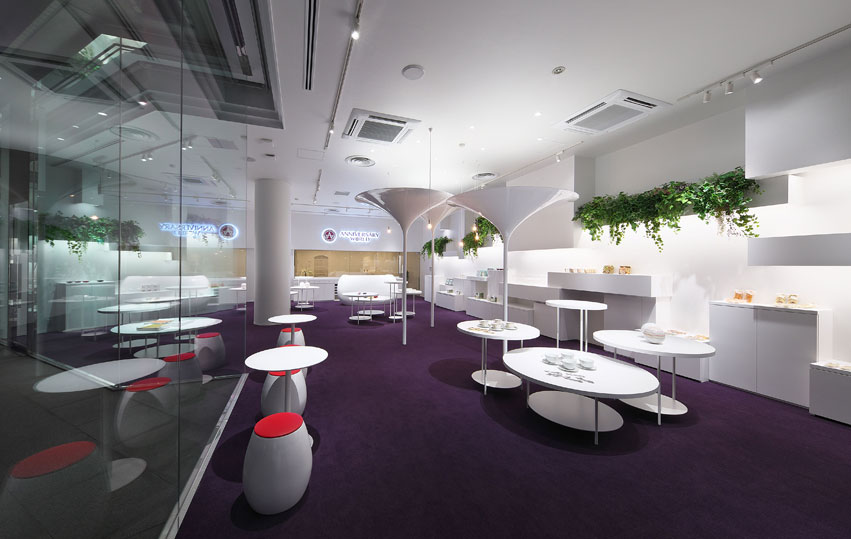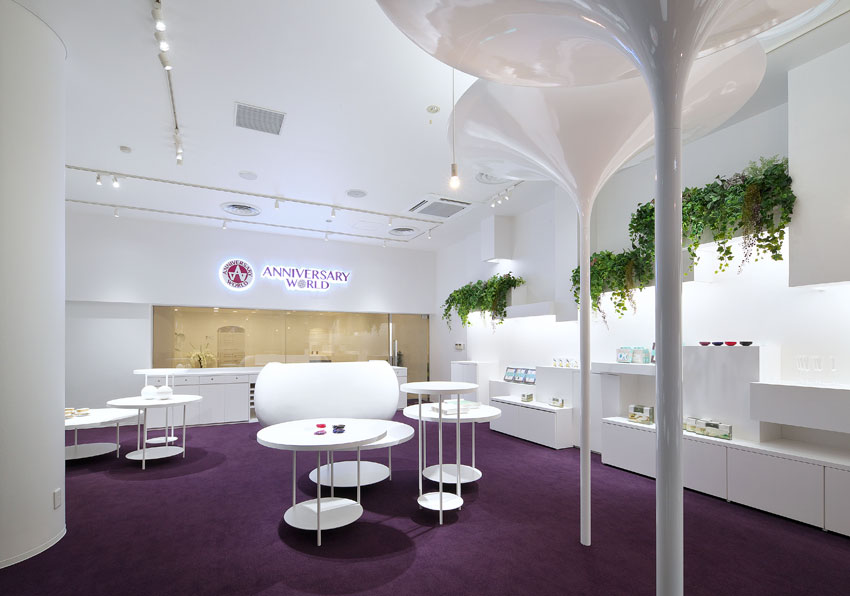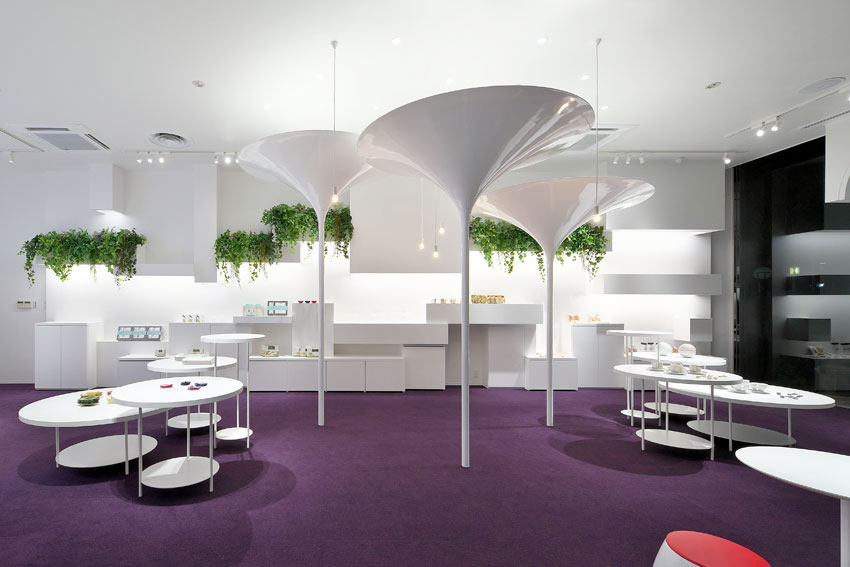 ---
Aniversary World!
-住所:兵庫県神戸市
業種:セレクト雑貨店
~ 睡蓮 ~
キラキラ輝く水面に、睡蓮が花咲く幻想的な世界を表現しました。クロード・モネの絵画「睡蓮」の葉の下、水中の世界。
ブランドカラーの紫をカーペットで床に敷き詰め、無限に浮かぶ睡蓮の花を連想し、イメージを広げました。
既存ファサード東面と南面はガラス貼りなので、壁面什器は水中壁面の凸凹した地層や岩を、植物は水中葉をモチーフに、
アクアリウムのような空間にしました。
そこへ睡蓮の葉をモチーフとした逆円錐型のオブジェ(FRP)を店舗中央へ3本挿し、ランドマークとしました。
逆円錐型の頂部には反射板を設けて照明光を反射させ、水面の反射光が天井へ映し出されて見えるように試みをしました。
また、ディスプレイ什器も、水泡や波紋を模した円形の組み合わせです。
什器の脚を3本にしたり、円の大きさを変えたり連ならせたりして、リズムや浮遊感を演出しています

---
Location : Koube-city,Hyogo Japan - Water lilies-
A visionary world with blooming water lilies awaits you underneath the shining water surface. An underwater world underneath the leaves of "Water Lilies" painted by Claude Monet.
This work is based on an image of infinite number of water lilies floating on water surface which derived from a conception of filling the carpet with the brand color of purple.
Then, wall furniture and plants were laid out to represent the aquatic plants and the rough strata and rocks of the walls underwater.
The existing east facade and the south face are glazed to create an aquarium-like space as if you are looking at a water tank from a cross section.
An inverted cone shape objet d'art is created with FRP, symbolizing water lily leaves. Three of them were inserted in the middle of the store to build a landmark.
A reflective plate is installed at the top of the inverted cone shape, reflecting the illumination light as if the light reflected on water surface is being projected onto the ceiling.
Display furniture is made in a round shape embodying bubbles and ripples.
To give a rhythm to the furniture,
The furniture legs are limited to 3 to give a floating, light touch and the sizes of the circles are changed to add rhythm.
The reception is made in a shape of a characteristic cobblestone to add accents.
A beautiful world welcomes you underneath the water lily leaves.
Light shines into the underwater and you will see fish of the most fabulous colors swimming through the shining greens and treasures floating around.
Let's have fun exploring the underwater! Welcome to Anniversary World!
---

<COMENT>
ブランドイメージが紫と決まっていたので、色のイメージからアイディアがでてきました。
モニュメントが空間構成のポイントとなっております。
---
更新日-2023-03-06